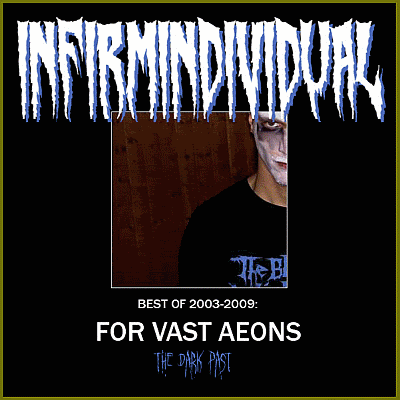 What should I say? This is my stuff.
[GUFT002]
and [
GUFT003
] are outta there on our sweet, little
GUFT-Netlabel
. I decided this morning to tinker this two Best Of'z together. And now I'm done. One is covering
The Dark Past
(03-09) of my project
Infirm Individual
, it is experimental Noise and underground Grindcore - something like that. Don't get damaged, my friends. You can read something about the history of my work in the virtual bad-English-booklet. I hope you enjoy it. The other compilation contains my newest material, it's called
The New Age
(09-11), it is electronic music with a lot of 8-Bit-magic. I can't describe it actually. I don't know what I should say anyway, because these two releases are containing so much memories, so much of my damn blood. It's some sort of my life-work.
1 x 34 minutes and 1 x 70 minutes of my life.
I don't want to spoil my own poo poo, but I do: This is hot underground shit, folks. Serious heart-work. Just for you. Have fun with it. I'm a little bit melancholic now. Wow. I will drink some wine now and will hug my dusty NES-Console, while hearing Burzum or Aborted.